Posts for: September, 2014
By Davis Dental, PLLC
September 23, 2014
You may be considering dental implants for a lot of reasons: durability, functionality and imperviousness to decay. But perhaps the winning reason is how they will make you look — their life-like quality can restore a smile marred by missing or disfigured teeth. Achieving that result, though, requires your dental team to determine beforehand the state of your bone and gums, and treat any conditions that would interfere with the final result.
The first area to look at is the amount of bone available to support the implant. An adequate amount is necessary not only to stabilize the implant, but to also ensure proper placement needed to achieve the best "smile" result. Your specialist, then, will take steps to protect available bone during procedures, or even aid in building up the bone structure by inserting grafting materials that encourage new bone growth.
The degree of bone volume in adjacent natural teeth is also important because it can greatly affect the health of the papillae. This is the triangular-shaped gum tissue that occurs between each tooth that gives normal teeth their arched appearance. Insufficient bone in these areas could cause the papillae not to regenerate properly around the implant site, which creates unsightly dark spaces in the gum tissue known as "black hole disease."
We must next consider the quality and health of your gum tissue. Patients whose gum tissue tends to be thin face difficulties during cosmetic surgical procedures; their thinner tissues are also more prone for objects behind them to be visible, including metal or other crown materials.
Our aim is an implant crown emerging from the surrounding gum tissue just as a natural tooth would. To achieve this requires knowing first what we have to work with regarding your bone and gums, and to address any issues that are problematic. One aid in this process is to affix a temporary "prototype" crown on the implant to wear while the permanent crown is manufactured. This allows you to "test-drive" the new look, and make adjustments in the final product regarding color and materials.
Accounting for all these factors — and then making adjustments along the way — will help ensure the final crown meets your expectations for function and appearance.
If you would like more information on the fabrication of implant crowns, please contact us or schedule an appointment for a consultation. You can also learn more about this topic by reading the Dear Doctor magazine article "Matching Teeth & Implants."
By Davis Dental, PLLC
September 08, 2014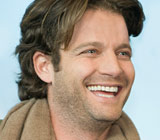 Nate Berkus, author, interior designer and host of his own television program, The Nate Berkus Show, is a consummate professional who has always focused on "helping others love the way they live," as he puts it. Berkus is known as one of America's most beloved go-to-guys for inspiration on the latest design trends. And then there is his captivating smile.
In an exclusive interview with Dear Doctor magazine, Berkus discusses his trademark smile. Unlike most people in Hollywood, his smile is totally natural — he never wore braces or had any cosmetic work. However, Berkus does give credit to his childhood dentist for the preventative healthcare he received as a young boy. Berkus states, "I'm grateful for having been given fluoride treatments and sealants as a child. Healthy habits should start at a young age."
As for his oral hygiene routine today, Berkus says he brushes his teeth at least two times a day, and sometimes three times a day. Berkus is also an avid "flosser" and follows the important flossing advice he learned from his dentist: "Floss the ones you want to keep."
In addition to his design expertise, Berkus is right on the mark with his opinions on oral hygiene. In fact, he inspired our office to put together the following list of facts and oral health tips:
The first step in improving your oral health is to learn good oral hygiene behavior. Simply put, to maintain optimal oral health, you must brush and floss properly so that you thoroughly remove the dental plaque.
The second step is a thorough evaluation system. We are a key part of this step. During your next office visit, we can conduct a thorough examination, review your brushing and flossing techniques, examine the health of your tongue and discuss any questions you have. We can also clean your teeth and ensure that you leave our offices confident with your new oral hygiene routine. And if you don't have an appointment, contact us today to schedule one.
To learn more about improving your oral hygiene, you can continue reading the Dear Doctor magazine article "Oral Hygiene Behavior - Dental Health For Life." And to read the entire interview with Nate Berkus, please see the article "Nate Berkus."