Posts for: April, 2014
By Davis Dental, PLLC
April 17, 2014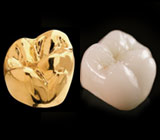 Gold is more than a financial commodity or a symbol of wealth — it's one of the best materials for restoring damaged tooth crowns, the visible portion above the gum line. It's extremely durable and can last for several decades if properly maintained. It also causes minimal wear to adjacent teeth.
But as new, more life-like materials have come into prominence, gold restorations have diminished in popularity. Dental porcelain in particular, a type of fired ceramic glass that mimics the look and color of teeth, has increased in popularity for use in highly visible areas.
But unlike gold, all porcelain crowns lack strength, tend to be more brittle and can abrade other teeth during biting and chewing. If they break, they can shatter beyond repair. All porcelain crowns are improving dramatically as newer space age materials become available. Historically, though, they are thought of as more unpredictable when used for back teeth; the greater biting forces make them more susceptible to failure than with front teeth.
A Porcelain-Fused-To-Metal (PFM) crown is a hybrid of these two materials that seeks to impart the strengths of both — the aesthetic appeal of porcelain and the durability of gold or platinum. But a PFM crown also has drawbacks: the porcelain surface may still abrade opposing teeth; they can lose their aesthetic appeal if the metal collar becomes visible if gum tissues recede; and they can fail if the porcelain fractures or separates from the metal.
To address some of porcelain's weaknesses, some PFM variations reduce the amount of porcelain by placing it only on the visible side of a cast gold crown. In addition, other porcelain materials are now coming into use that may be more durable yet just as life-like.
Choosing which material to use for a crown depends on many factors: cost, the location of the crown, and, of course, the patient's desires for the resulting smile appearance. It all begins with a comprehensive exam: from there, we can advise you on your options and help you make a choice — gold, porcelain or something in between — that's durable and pleasing to the eye.
If you would like more information on your options regarding dental crowns, please contact us or schedule an appointment for a consultation. You can also learn more about this topic by reading the Dear Doctor magazine article "Gold or Porcelain Crowns?"
By Davis Dental, PLLC
April 02, 2014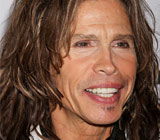 Rock star Steven Tyler fell and broke his two front teeth while on tour with his band Aerosmith not long ago. But Tyler was back on stage the very next day, thanks to modern dental implant technology.
Dental implants are the most optimal tooth replacement system in use today. The reason we say "system" is because replacing teeth with implants involves two, or sometimes three, components: the implant itself, which replaces the root-part of the tooth; the dental crown that sits on top of it to replace the part of the tooth that's visible in the mouth; and a connecting piece placed in between the implant and crown, known as an abutment.
The implant itself, made of titanium, is placed directly into the jawbone with a minor surgical procedure. Titanium has the unique ability to fuse to bone, creating a very strong connection. An implant provides virtually the same function as a natural tooth root, including stabilizing the bone underneath and preventing its loss — something that naturally occurs when a tooth is lost.
This fusion process takes a period of weeks, which is why the implant needs time to heal before a permanent crown is attached. One reason for early implant failure is "loading" them with biting forces too soon. But in experienced hands, implants are extremely successful. Documented research and clinical studies indicate success rates of over 95% — which is higher than any other tooth replacement option. Once integrated and functional, implants can last a lifetime. That's why, though they are a bit more expensive initially than other tooth-replacement options, they are more cost-effective in the long term.
Of course, another advantage of implants is that they look and feel completely natural. Just ask Steven Tyler!
If you would like more information about dental implants, please contact us or schedule an appointment for a consultation. You can also learn more by reading the Dear Doctor magazine article "Dental Implants." Dear Doctor also has more on "The Hidden Consequences of Losing Teeth."